TealLaunch Plus
3.25
Launch applications instantly with the TealLaunch pop-up launcher and button/stroke-mapping utility. Map applications to button presses and pen swipes so you can get to your apps q
Last update
20 Mar. 2006
Licence
Free to try |

$16.95
OS Support
Mobile
Downloads
Total: 253 | Last week: 0
Ranking
#217 in Utilities
Publisher
Tealpoint Software
TealLaunch Plus Publisher's Description
Launch your Apps Instantly: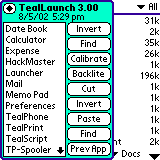 Instant Access to Apps
Launch applications instantly with the TealLaunch pop-up launcher and button/stroke-mapping utility. TealLaunch lets you map applications to button presses and pen swipes so you can get to your apps quickly.
Applications and functions can be started either from a pop-up window, or from over 150 configurable button press combinations and pen strokes.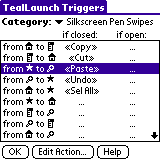 Feature Highlights

Configurable popup app list
Recently-visited app list
Configurable function buttons
Optional button-free view
Hardware button mapping
Silkscreen button mapping
Palm 5-way navigation mapping
Button press combos
Silkscreen-stroke mapping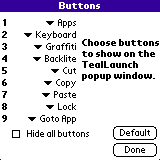 Special Functionality
Special features include desk accessory support, editing operations, HotSync, backlight, application bookmarking, and remapping of special contrast, jog dial, and back buttons. PalmOS 5 compatible.

- Fastest Possible Access -
Offers a lot of flexibility... The fastest possible access to most of the applications you use regularly.
PalmUser magazine

BONUS: A special for Handango, this enhanced bundle includes TealPoint VersionMaster for PalmOS. A $10 value, VersionMaster effortlessly tracks all your TealPoint applications, finding, downloading and installing new updates, when available.

A leading provider of software solutions for handheld devices, TealPoint Software currently offers 27+ productivity products for the PalmOS platform. Selections include TealDoc, the superior document reader, TealMovie, the award-winning multimedia player, TealAuto, the complete vehicle service and expense log, TealPhone, the replacement address book, and TealLock the definitive PalmOS security solution.


Take advantage of TealPoint's Free 30-Day Trial Policy on all products.
Look for Similar Items by Category
Feedback